Hardware – summer 2022
Recommended gear and clothing for summer outdoor adventures. In the list you will find products that caught our eye because of the technologies and materials used, interesting solutions, quality of workmanship, sustainable production or good value for money. Welcome to our outdoor gear store.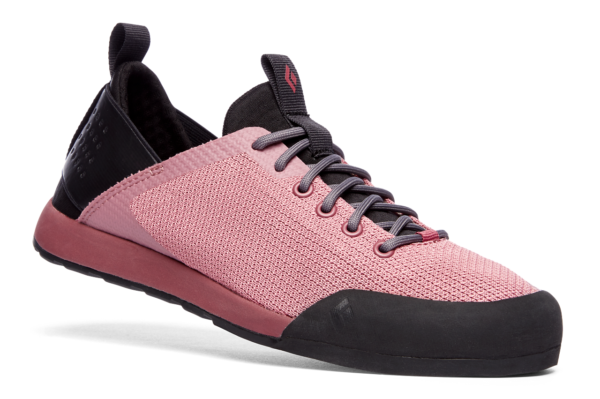 Black Diamond – Session approach shoes
Black Diamond – Session approach boots
The Session shoe is a combination of a classic approach shoe and a slip-on shoe with a stacked heel. Practical and comfortable construction is designed with climbers in mind, but not only. The Session model comes in two variants – material, made of durable Enduro Knit polyester mesh and suede. The heel of the boot is made of stretch with the addition of plastic, making it very flexible and soft. This allows you not only to dress the shoe more easily, but also just slip your foot in and walk, as in deep, built-in flip-flops, to be faster and invariably comfortable.
The shoe's leather and fabric are breathable and airy, while the sole is made of superbly cushioned, molded EVA foam, which further enhances the shoe's feeling of comfort and flexibility. The front is protected by a rubber bootie, which further protects against abrasion and mechanical damage and adds to the mountain character. The sole is made of durable, "sticky" and well-gripped BlackLabel-Street rubber. Session shoes are just perfect for climbing training, but they will also work great on approaches under rocks or in everyday, urban use.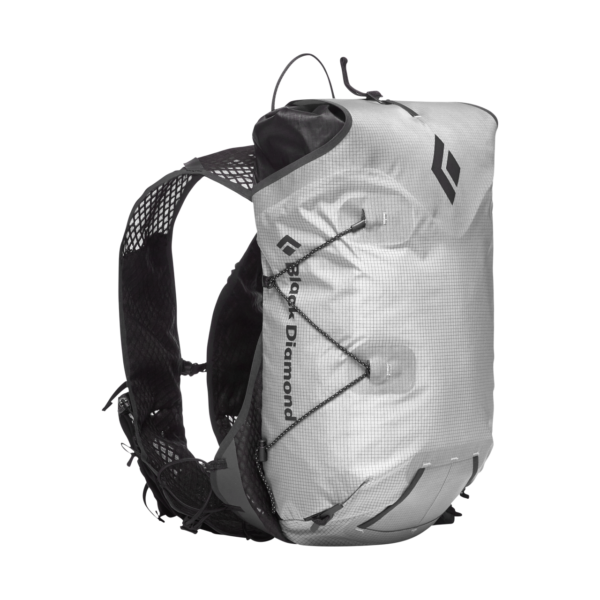 Black Diamond – Distance 15 backpack
Black Diamond – Distance backpack
The combination of the best proven technologies and designs of running vests and mountaineering backpacks resulted in Black Diamond's product, the Distance backpack, available in two sizes 8 and 15 liters. It is dedicated to all those who cover considerable distances in varied mountain terrain.
The carrying system is borrowed from a running vest and includes breathable, slightly elastic, wide suspenders made of durable mesh. The suspenders, thanks to the Edge Taping system, prevent abrasions. The whole gives extraordinary confidence, flexibility, fit, and therefore also full comfort of use. The backpack is equipped with a number of pockets to hold both snacks and soft flask bottles, as well as a Deploy pocket for easy access to your rain jacket. Store your keys, documents or wallet without worry in the inner pocket. The main part of the backpack is made of modern Dynex Ripstop material. It is extremely lightweight, yet very durable. The whole backpack is also fully waterproof, thanks to BD technology.dry ™, and a breathable back. It is worth mentioning that the whole thing is made 100% BPA and PVC-free.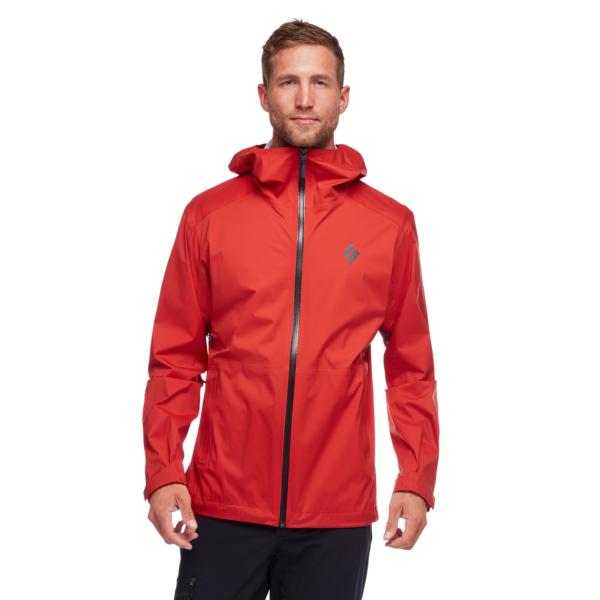 Black Diamond – STORMLINE STRETCH jacket
Black Diamond – Stormline Stretch jacket
In the Black Diamond range, it is worth noting the very compact, lightweight and flexible Stormline Stretch jacket and pants – Rain Shell and Rain Pants, especially in the Full Zip version. The Stormline series is first and foremost an excellent 2.5-layer laminate, in which the membrane was protected instead of the lining, with a special print. It has a huge impact on reducing weight and bulk. The jacket and pants fit into their own pockets and won't take up much space in a backpack, and a special loop allows them to be clipped to a harness or backpack.
BD technology.dry™ provides a waterproof and breathable rating of 10.000. In addition, the jacket has been treated with a DWR water repellent coating, similarly, the zipper has been protected against leaks. In addition, under the armpits there are zippers, which, when unzipped, allow you to quickly get rid of excessive moisture and heat, which is important especially on warm days. The jacket has a technical cut that is great for mountain activities, especially climbing, and the additional underarm panels and stretch fabric will only increase your comfort and range of motion. The bottom of the jacket, as well as the integrated hood, can be adjusted with drawstrings, and the cuffs can be adjusted with Velcro straps. The hood is compatible with a climbing helmet. The jacket has 2 lockable, roomy pockets.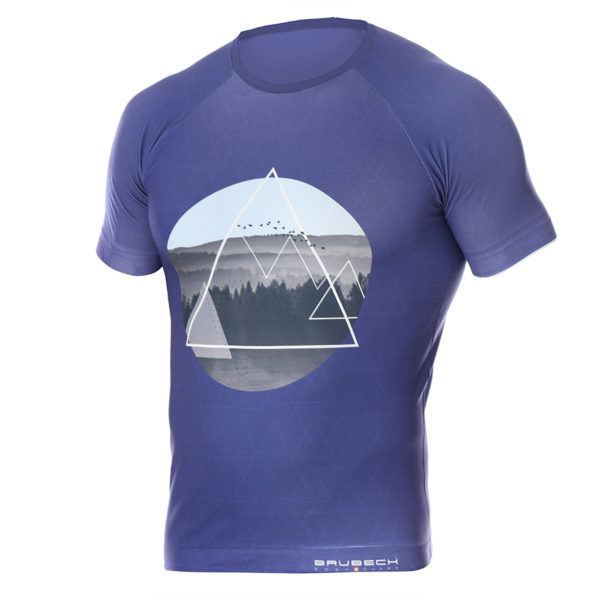 Brubeck – men's City Air thermoactive short sleeve T-shirt
Brubeck – City Air T-shirt
The men's thermoactive short-sleeve T-shirt was made for everyone who enjoys active outdoor activities. The main performance features of our hiking T-shirt are the efficient collection of moisture from the skin, maintaining optimal body temperature and ensuring air circulation. Seamless construction won't cause chafing or irritation. We have used ventilation zones across the entire surface of the T-shirt in areas of excessive perspiration, ensuring high comfort during summer activities.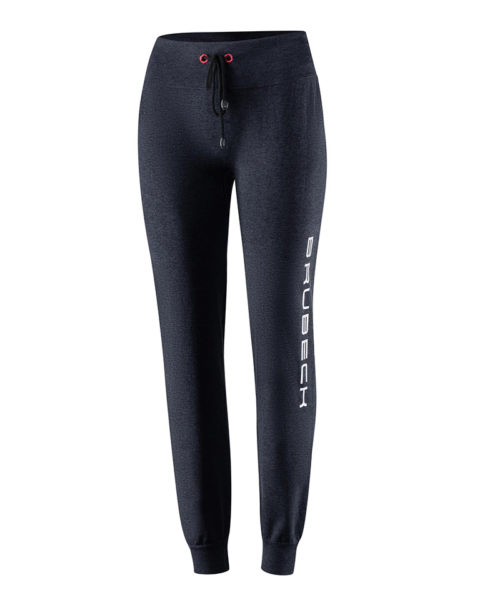 Brubeck Women's FUSION long-leg sweatpants
Brubeck – FUSION sweatpants
Sweatpants are rightly associated with comfort. Not only is it a popular piece of clothing for anyone who plays sports. Increasingly, the tracksuit is becoming a part of everyday styling. What makes the Brubeck women's sweatpants stand out is the two-layer structure of the knit fabric, which efficiently wicks moisture to the surface of the pants leaving your skin dry. Seamless finish won't cause chafing or irritation, no matter what you do. In addition, the welts at the waist and at the legs do not get drunk keeping the sweatpants in the right position, and the pocket in the waistband closed with express allows you to take useful small items on the go.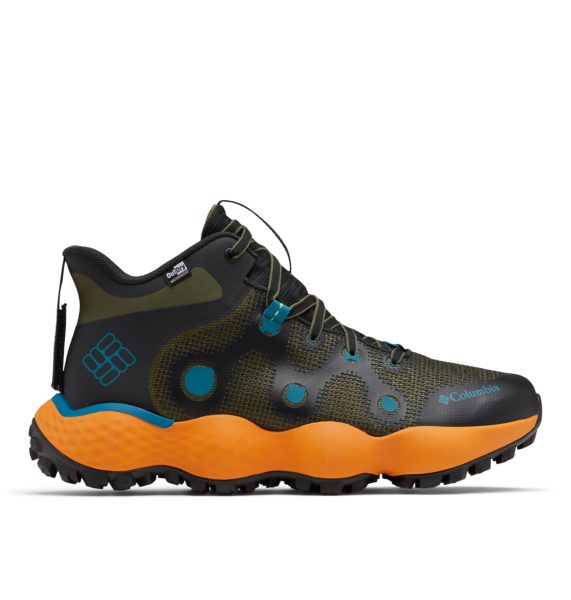 ESCAPE™ THRIVE ENDURE™ boots by Columbia (photo. Columbia)
Columbia – ESCAPE™ THRIVE ENDURE™ boots
ESCAPE™ THRIVE ENDURE™ is an extremely lightweight and durable outdoor shoe. The model is equipped with OutDry™ technology, which guarantees water resistance, as well as Techlite™ Plush midsole, which provides dynamic cushioning and stabilization of the steps. The solution reduces the shocks generated while hiking, reducing the impact on your joints. The upper is made partly of special mesh, which has a positive effect on ventilation. The Adapt Trax™ outsole provides reliable traction, while the five-millimeter lug on the sole guarantees increased safety on muddy sections of the trail. The boot is available in men's and women's versions.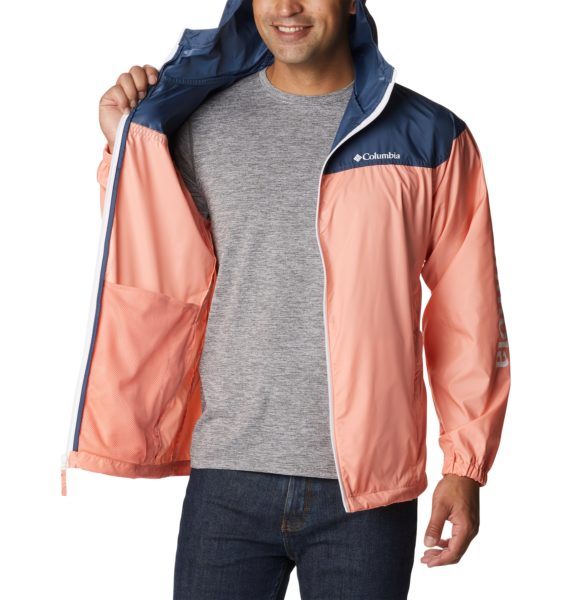 The Flash Challenger™ Novelty Windbreaker by Columbia (pic. Columbia)
Columbia – Flash Challenger™ Novelty Windbreaker
The Flash Challenger™ Novelty Windbreaker is one of this year's new products. Made of quick-drying fabric, the jacket has elastic cuffs and an adjustable bottom hem. Integrated, partially elastic hood, allows for a better fit and thus better protection from the wind. Zippered hand pockets allow you to carry all your essentials with you. The jacket is available in men's and women's versions.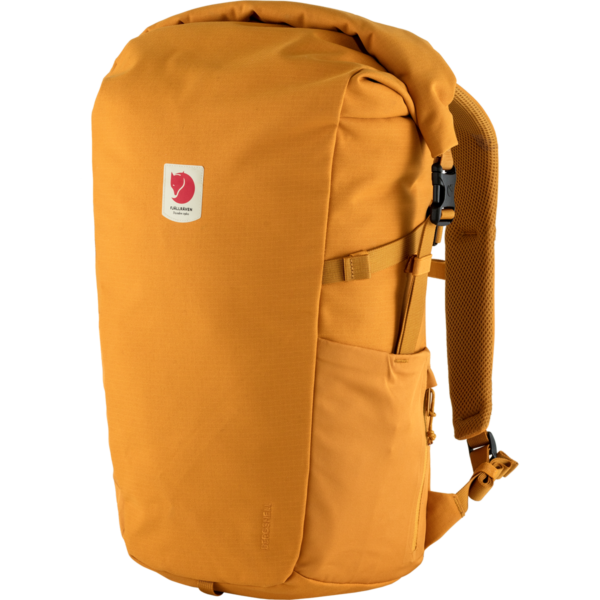 Fjällräven Ulvö Rolltop 30
Fjällräven – Ulvö Rolltop 30 backpack
A waterproof backpack with a roll-up closure, ideal for day hikes, travel and everyday tasks. Fjällräven's waterproof Bergshell fabric combined with a webbing-finished lining will keep this backpack safe even in the most torrential rain. Roll-up closure can be attached at the top or sides to prevent water from getting inside. The backpack has a padded internal laptop pocket and a zippered mesh pocket. External loop for attaching a bike light (not included) on the front. Ideal for day trips, travel and everyday tasks, in rain or sunshine.
Price: $769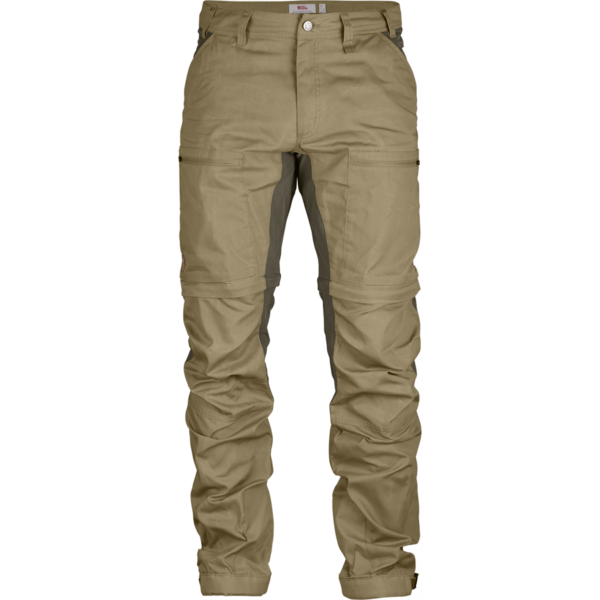 Fjällräven Abisko Lite Trekking Zip-off
Fjällräven – Abisko Lite Trekking Zip-off Pants
Lightweight, detachable, well-ventilated pants for trekking expeditions in warm climates. Zippers located just above the knees are used to transform the pants into shorts. This is a very practical solution for traveling when you need to pack in such a way that one item has multiple uses. Durable, four-way stretch stretch fabric and G-1000 Lite fabric make up a pair of these comfortable, quick-drying pants with excellent breathability properties. Technical cut with contoured knees and stretch fabric allow you to take longer steps without worrying about restricting your freedom of movement. The pants feature two hand pockets and roomy zippered leg pockets for storing maps and other small items. The legs are finished with adjustable straps, and each has a hook to attach to your boots, so they don't ride up. Reinforcements on the hem and inside of the calves increase wear resistance.
Price: 989 PLN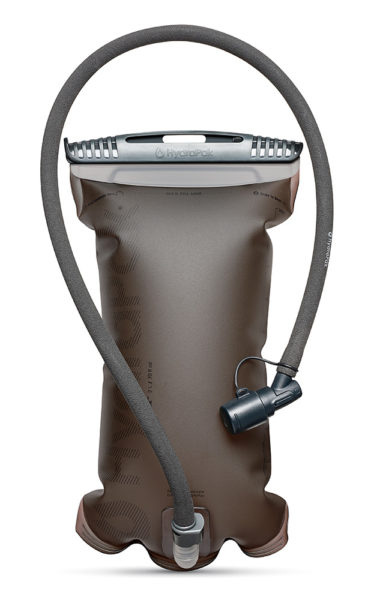 HydraPack – Force reservoir
HydraPack – Force hydration pack
Proper hydration is essential during any activity – with the HydraPack Force reservoir a sip of water will always be at hand. The model has a number of practical features, such as a mouthpiece with dirt protection and a filler with Slide-Seal closure system to prevent water leakage. Flexible pouch made of durable TPU plastic easily fits into backpack pockets. Special hose guarantees to maintain the temperature of liquids even in high temperatures.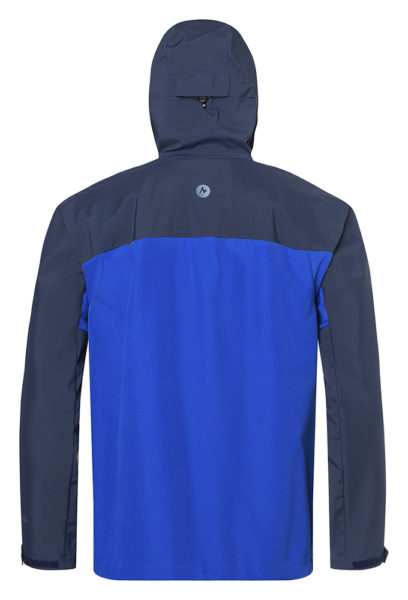 Marmot – softshell ROM Hoody
Marmot – ROM Softshell Hoody
Looking for a good companion during summer trekking? There you have it – the Marmot ROM Hoody softshell will never let you down. The comfortable Active Fit cut, proven Gore-Tex Infinitum membrane and cuffs finished with durable Velcro straps are product features you'll appreciate in both high winds and light precipitation. Add to that practical pockets and a helmet-compatible hood – all this makes the ROM Hoody jacket an invaluable companion during any summer activity. And to top it off: in all weather conditions.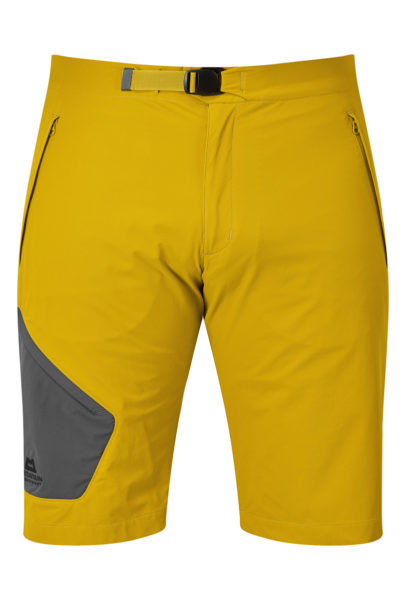 Mountain Equipment – Comici Short pants
Mountain Equipment – Comici Short pants
Short version of practical, lightweight and comfortable soft shell pants, designed for advanced trekking and climbing. The EXOLITE 125 fabric they are sewn from is exceptionally stretchy and quick-drying, while effectively protecting against rain and wind. Comici features four zippered pockets, including one on the thigh. The model is produced in both men's and women's versions – naturally, each is available in a wide range of colors. The pants come with a dedicated drawstring belt.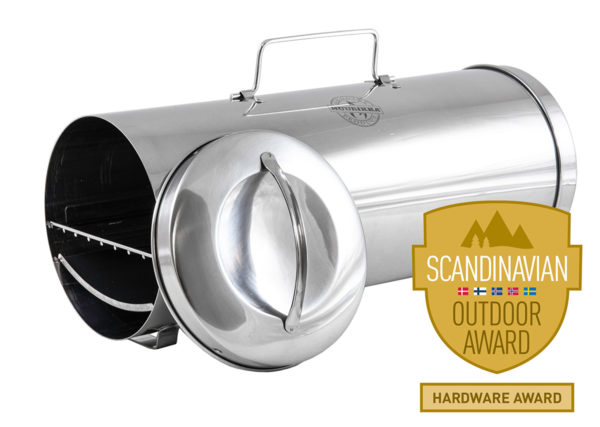 Muurikka – portable Smoker Outdoor Smoker Retro
Muurikka – Portable Smoker Outdoor Smoker Retro
The Muurikka Outdoor Smoker Retro is a portable, compact smoker that is perfect for camping trips. The product was awarded in the international Scandinavian Outdoor Awards 2020! "If you love to smoke your own fish, meat or vegetables while hiking or camping, the Muurikka Outdoor Smoker will be perfect for you. Compact dimensions (40 x Ø 16 cm) and fairly light weight (about two kilograms) make them easy to carry in a backpack or kayak. Without wood chips, it will also work well as an outdoor oven. It is made of stainless steel and has a cylindrical shape that provides better air circulation inside than rectangular designs."
The original Muurikka smokers have a recognizable cylindrical shape and have been manufactured in Finland since the late 1990s. Without wood chips, this smoker can be used as an outdoor oven! Easy to use and clean thanks to the drip tray under the grate. The stainless steel can be cleaned with fresh water and scrubbed with sand. This specific shape that the Opa company originally introduced in the late 1990s., Allows shorter cooking / smoking time for food, as the hot air circulates more efficiently in the circular smoking cabin.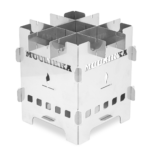 Muurikka Outdoor Pokcet Stove
Muurikka – Outdoor Pocket Stove
The Muurikka Outdoor Pokcet Stove is a sleek, compact, collapsible stove that will give you the ability to prepare delicious food in the field!
Material: 0.8 mm thick stainless steel
Dimensions when folded: height 14 cm, width 10.8 cm and depth 10.8 cm
Weight with protective bag 0.480 kg
Weight of the stove: 0.450 kg
Dimensions of the protective bag and packed stove: 15.7 x 16.4 x 1.5 cm
With the Muurikka stove, you can prepare meals or drinks in a camping environment. The equipment is quick and easy to assemble and takes up little space. The Muurikka stove can be easily carried in a neat and sturdy protective bag. Muurikka campfire pots, camping pans and kettles are suitable for use on this stove. The stove is very stable and efficient, and the included grate allows you to conveniently use small diameter cookware, such as the. cups. Stove made in Finland with stainless steel.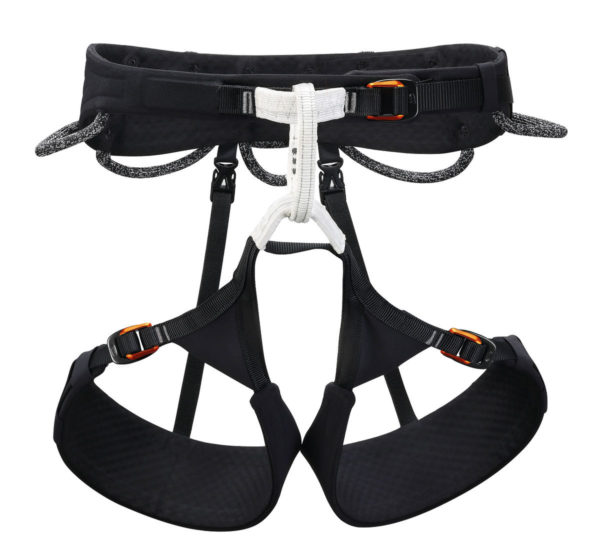 Petzl – AQUILA harness
Petzl – AQUILA harness
AQUILA harness is very comfortable, it was developed for sport climbing, traditional climbing and mountaineering. The wide belt and thigh straps are suitable for larger users, both in winter and summer. Clean and lightweight design provides total freedom of movement and minimal weight. Five large hardware holders offer enough space for all the necessary equipment. Reinforced binding points increase the rope friction resistance and durability of the harness. The harness is available in four sizes (S-XL).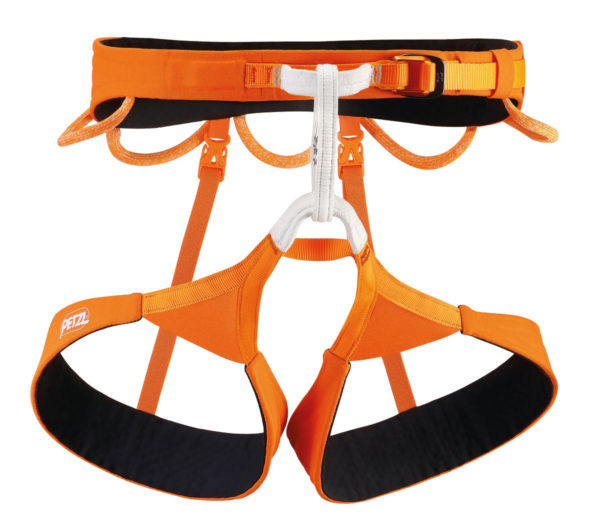 Petzl – HIRUNDOS harness
Petzl – HIRUNDOS harness
The new version of the HIRUNDOS harness is designed for experienced climbers, for rock climbing and artificial walls. This lightweight and slim harness provides total freedom of movement, remaining comfortable while hanging. Four equipment holders offer enough space for all the necessary equipment. Reinforced binding points increase rope friction resistance and harness durability. The harness is available in four sizes (XS-L) and in two colors: orange and black.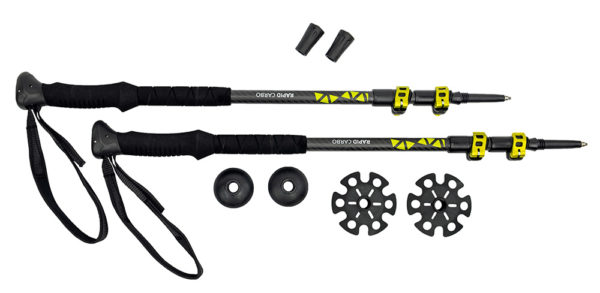 Rockland – RAPID CARBO trekking poles
Rockland – RAPID CARBO trekking poles
Rapid Carbo poles are classic, strong trekking poles made of very light material – carbon fiber. Three sections with reliable snap locking system will work well in summer and winter skiing or walking in deep snow. Especially since the set includes two types of plates – summer and winter.
Carbon is the ideal material for trekking poles. It is very lightweight, strong and great for absorbing the shock of hitting the ground with a stick. As a result, the poles do not need classic shock absorption, which is heavy and ineffective.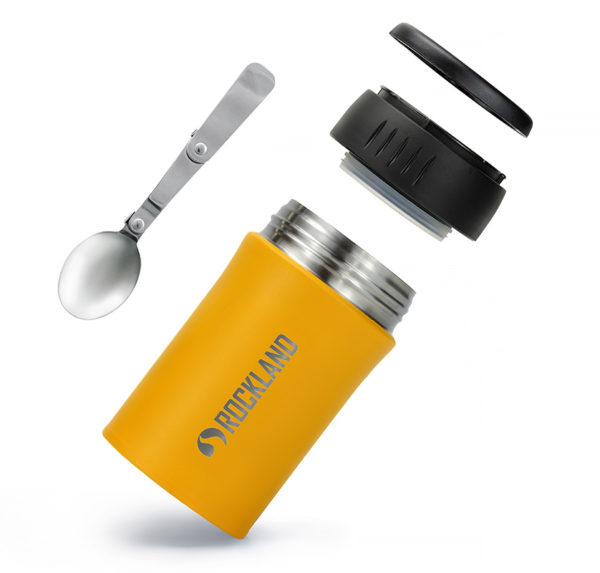 Rockland – Meteor thermos
Rockland – Meteor thermos
Rockland Meteor is a thermos that will allow us to take a home-prepared meal wherever we want to go. It's a healthy, inexpensive, and on-trend solution in recent times! The lunch thermos is made of stainless steel. With the right proportions and a collapsible steel spoon, it allows you to conveniently eat straight from the container. Easy to fill and maintain. Double-wall design and well-insulated cap keep your meal warm for hours. Rockland Meteor is built in high quality steel using vacuum technology. The set will also include a collapsible steel spoon that fits into the lid – so we can take it with us really anywhere.
/> Tenaya IATI climbing shoes
Tenaya – IATI climbing shoes
Iati is characterized by a strong contouring, additionally combined with a rigid, unlined sole. Despite this, it remains incredibly comfortable and fits the wearer precisely. The combination of leather and microfiber in the upper provides ventilation and stabilization of the foot during climbing. Traditionally for this Spanish brand, all of the rubber used in production is Vibram XS Grip. Quick fit and secure foot wrap is provided by DRAXTOR, a system of strong Velcro straps with individual adjustment and interchangeable ends. What's more, IATI is handmade in the south of Spain.
You can find a mass of holiday inspiration here: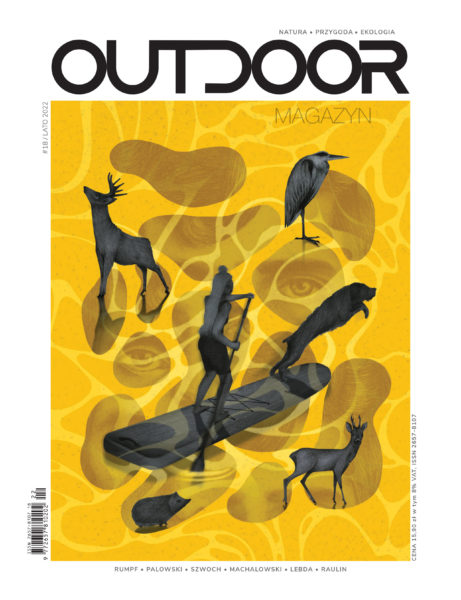 Outdoor Magazine #18 – Summer 2022 (il. Dorota Piechocinska)