Outdoor companies help Ukraine [update]
Here are some actions organized by outdoor manufacturers, brands and stores to help refugees from Ukraine, as well as those who remain in the war-torn country. This is a great industry commitment and rapid mobilization, make hearts grow. Such help is needed today.
[update 12.03.2022]
Associations have also been involved in the relief effort European Outdoor Group, Polish Outdoor Group, Scandinavian Outdoor Group and Outdoor Industry Association UK. Thanks to the cooperation of these organizations, specialized outdoor equipment will go to those most in need. Tents (large family ones), sleeping bags, mats, thermal blankets and NCR films, warm clothes, socks, shoes and thermal underwear, as well as headlamps, long-term food (including energy bars). The products donated by outdoor brands will be directed through various channels to the groups most in need of help: refugees in Poland and civilians in Ukraine. To this end, the Polish Outdoor Group association has established cooperation with the Government Agency for Strategic Reserves and the customs agency providing active support for supplies from outside the EU – the action is very actively supported by brands from the UK. POG is also in contact with the Kresy w Potrze (Borderlands in Need) Foundation, which assists both Ukrainian refugees in Poland and those in a very difficult situation in Ukraine as a result of the war. The campaign also supports a reception point in Stalowa Wola organized by the local government in cooperation with the government for children evacuated from orphanages in Ukraine. Outdoor brands will donate sleeping bags, sleeping pads, as well as warm clothing and boots there. We received a quick response for this aid from the companies Raven, Martes Sport, Jack Wolfskin, Dopsnow, Viking Footwear, Columbia, Sportpursuit, Zyrofisher.
Polish Outdoor Group is in contact with Ukrainian mountaineer Nikita Balabanov, coordinating aid for the Lviv Self-Defense Force. On Thursday, March 10. March, the first shipment of specialized, technical products was sent to Ukraine. Among the companies that responded very quickly to the appeal for equipment support and have already sent supplies were: Exped, Garmont, Silva, Polygiene, Equip (Rab), Comodo Technical Socks, Malokee and distributors Crag Sport i AMC (special thanks to AMC for providing the warehouse and helping with logistics).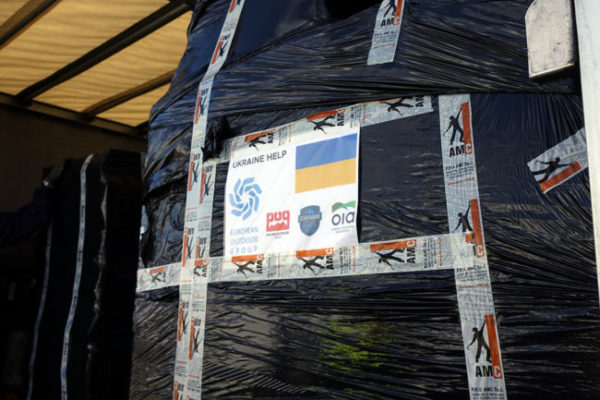 First shipment of aid for Ukraine prepared by European Outdoor Group, Polish Outdoor Group, Scandinavian Outdoor Group and Outdoor Industry Association UK. Loading at AMC headquarters, March 10, 2022 (photo. POG)
Specific submissions are being accepted all the time from companies (Keen, Garmont, Malavi – Buff, Woolpower, AlpKit, LifeStraw, Outdoors Magic / Inter Infusion , Outdoor People, Peak UK Kayaking, Oase Outdoors, Sasta, Withby&Co) who would like to get involved in helping the. With the rising tide of refugees and the development of the war, the needs unfortunately continue to grow especially for products such as sleeping bags, mats, thermal blankets, quick-dry towels, flashlights, headlamps, first aid kits, thermal underwear, boots (including children's boots), warm jackets and warm children's clothing.
The POG Association strives to coordinate requests and provide active support in choosing the right channel for assistance, and to facilitate procedures and logistics. Applications should be sent to [email protected]
All proceeds from sales realized in the brand's online store Pajak this weekend (11-13.03.2022) will be donated to the action Solidarni z Ukrainą, conducted by the Society of Friends of Bielsko-Biała and Podbeskidzie region.
[update 9.03.2022]
Jack Wolskin Poland and foundation Martyna Wojciechowska support children from Ukraine. In honor of Women's Day, Jack Wolfskin will donate all profits from sales on March 8-10 to the Martyna Wojciechowska Foundation to help children in Ukraine. The collection goal is 200 thousand. PLN.

Czech equipment manufacturer Singing Rock in cooperation with INEXIT and 4Climbing, transported 8 tons of equipment and materials needed in war-stricken Ukraine to the border. Singing Rock also supports Ukrainian firefighters with equipment (altitude work equipment). The company has suspended trade with Russia.
brand owner Fjord Nansen, Tuttu i Globtrek together with its employees donated sleeping bags, thermoses and warm sweatshirts to the Polish Red Cross. More activities in support of Ukraine are planned. The total value of the donated equipment is PLN 110,000.
Berghaus Made a monetary donation at the UNHCR (United Nations High Commissioner for Refugees). British manufacturer also donates clothing and backpacks.
[update 7.03.2022]
owner of the stores salewa24.pl as well as montiko.pl donated the most necessary accessories to the needy in Ukraine: socks, gloves, thermal blankets, headlamps, thermoses, first aid kits, disinfectants. Stores have also lowered prices on some products. Employees organize collection in stationary stores (on site and by mail order).
Polar Sport Collects headlamps for the Ukrainian partisan unit in Kiev:
We need min. 50-60 pieces, we are emptying our warehouse, but more are needed. Therefore, if you have working headlamps in your mountain closets, please bring them to our stores. They do not have to be specialized, with a million lumens, the important thing is that they work, with new batteries. Sleeping bags and sleeping pads are also needed. We ourselves have already donated first aid kits, thermoses and NRC blankets.

All the time we act, although we do not inform about it, because we prefer to act than to talk about it. From the border and from Ukraine itself with our buses we have already brought dozens of women with children. Everyone is safe now, but new refugees are arriving all the time, so if you have free housing, please contact us. Слава Україні!
Collections and transportation of equipment is also organized by Bieg Rzeźnika Foundation. A dozen people are working non-stop, with six cars on the move to transport equipment and refugees:
Together with 7.62 Group we collected a lot of clothing needed today in Ukraine, countless belts, storage bins, backpacks, several hundred medical packs, about 50 staz, more than 50 sets of thermal underwear, one hundred and dozens of flashlights, dozens of pairs of glasses, etc. ATTIQ produced for us more than 400 chimneys, to the border in Kroscienko we donated our entire stock of NRC foil – more than 2 thousand pieces. Altogether it came out more than 12 cubic meters of goods.
Company ATTIQ is heavily involved in relief efforts, with a special focus on young children and mothers. Collections of needed clothes, blankets, mascots for children and medicines are being organized.
Vaude is holding a fundraiser together with Save the Children Deutschland. Outdoor clothing manufacturer doubles the amount raised.
Traveler's Shop cuts sleeping bag prices by 50% and 35% and offers other products at special prices to customers buying supplies for Ukrainian refugees.
[update 4.03.2022]
The company Spokey has made a monetary donation, as well as necessities that will be regularly given to those in need (sleeping bags, sleeping pads, thermoses, etc.). The company's employees got involved in helping by organizing a collection. Spokey will donate half of the collected products to a camping site in Katowice, which is waiting to host families from Ukraine. An employee of the company, who is Ukrainian, drove the other half of the items to Ivano-Frankivsk.
Intersport Poland conducts shipment of the necessary sprze†u directly to Ukraine. The estimated value of the aid prepared so far is about 100 thousand. PLN. Another package will be directed to refugees already on Polish territory.
Mactronic, Polish manufacturer of outdoor and service lighting, is in contact with government institutions and donates essential products directly to Ukrainian soldiers and civilians. Yesterday, the company reported the first shipment of handheld flashlights, head flashlights, searchlights, batteries and mounts for mounting flashlights on a picatinny rail.
[update 3.03.2022]
Triglav, Polish manufacturer of bikepacking bags, sells products marked with a blue and yellow ribbon, with all proceeds (100 percent of the. quotas) will be donated to the Polish Medical Mission.
LYO FOOD is donating freeze-dried meals on an ongoing basis, as well as organizing an international collection of new and used clothing and equipment. Items can be sent to the company's headquarters address in Kielce:
LYOFOOD – Olszewskiego 21, 25-663 Kielce, Poland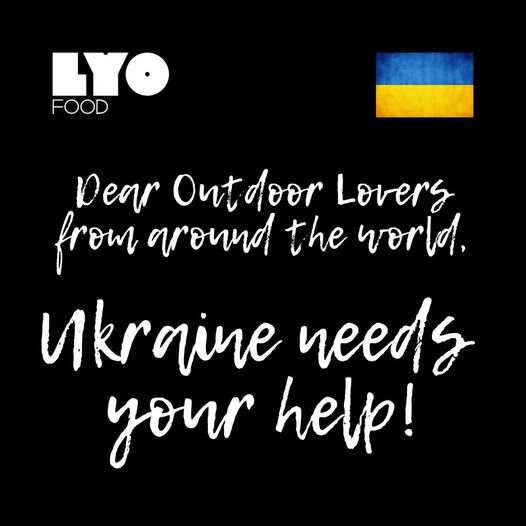 [update 2.03.2022]
4F (OTCF S.A. and 4F Foundation Helps) donated 500 thousand. PLN to help Ukraine. The funds will help organize temporary accommodation for refugees, clothing and equipment for refugees and those returning to Ukraine to join the fighting, and medical supplies.
Polish brand warehouse Reima provides clothing for children:
Reima cares about children, and the suffering of children in Ukraine moves us deeply. Our Polish warehouse delivers thousands of Reima products to refugee center in Goleniow. There are many children among the refugees who need warm clothing.
Haglöfs donated 200,000 Swedish kronor, or about 90,000. PLN, to the UNHCR (Office of the United Nations High Commissioner for Refugees) organization, which helps find shelter for refugees from Ukraine. The brand is also preparing a shipment of warm clothing, shoes and blankets.
Martes Sport donated 3300 sleeping bags to our eastern neighbors
KEEN donates 50 thousand. Euros in cash and products to help the Ukrainians. In addition, the brand, in cooperation with its distributors in Poland and the Czech Republic (MM Sport and Outdoor Concept), will donate footwear and clothing to refugees in need.
Distributor Camper.en in cooperation with brands from its portfolio (DMM, Edelweiss, Skylotec) donates helmets, first aid kits, stretchers and headlamps to Ukrainians.
Skitourowe Zakopane Foundation organizes drop For needed medical supplies and transportation to Ukraine. Mateusz Mróz, who is in charge of the action, is cooperating with Iryna, a Ukrainian living in Poland, who writes:
This drop is my participation in this fight. Raising money for medical supplies for those fighting in territorial defense in Zhytomyr, Rivne and Lviv regions. I have transportation, we have confirmed distribution channels, I have Polish friends who decided to join this fight with me. With the money collected we will buy first aid kits, bandages, disinfectants, tourniquets, bandages and also sleeping bags or thermal blankets.
Drop Polish mountain rescuers have also launched. GOPR Foundation will work through the nearest Ukrainian groups ( GOPR Bieszczady , Krynica GOPR Group).
Lesovik organizes the collection of needed clothing and equipment – the company will cover shipping costs, sort the sent items and donate them to a branch of the Red Cross or to a place designated by the humanitarian organization (INSTRUCTIONS: https://www.facebook.com/LesovikOutdoor/posts/5297495026973872),
BRUBECK will donate its warmest sets of thermal clothing made of merino wool worth a total of 300 thousand dollars. PLN.
The 8a store.pl donated products worth a total of 200 thousand. PLN ( clothing, food with a long shelf life, thermoses, stoves, bottles, flints, headlamps, cutlery, pots, NRC, first aid kits, ponchos, cloaks, water filters). 8a in Gliwice and Katowice also organizes donation collections.
Majesty Skis will donate part of the proceeds from the sale of its products in the first two weeks of March to Polish Humanitarian Action,
Magenta Cat (distributor m.in. EDELRID, Klättermusen, Tilley, SPOT, Craghoppers) donated 100 professional first aid kits from Care Plus International brands, which will go overseas to help provide first aid to victims of war.
Trekker Sport organizes a collection, also sends its prods:
Momentarily you will not get Medaid first aid kits from us. We donate the entire stock and all NRC foils we have on site to help Ukraine.