Grajdół Festival – the wildest music and social event in Poland: June 23-26
Grajdół is a socially engaged, intimate festival in the mountains near the Polish-Slovakian border that no one expects. The event will be held for the second time in the Beskid Sądecki region at the Magóry Chata from June 23-26. The organizers write: "It's three days, for the duration of which we turn a clearing and an old mountain farm into an open-air art gallery and relaxation zone. During the day, sitting among the trees with leading Polish scientists, journalists and activists, we talk about what is important, and in the evenings, under a stage built from a hayloft, we entertain ourselves with diverse alternative music with folk echoes". OM is a patron of the event. Please visit!
What to expect?
10 concerts on the main stage (m.in. Disgrace, Potock, Troye Zillia, Chrust, Box Anima)
4-6 concerts on the second experimental stage,
gallery of photographs taken by Przemysl volunteers, whose photos from the border are used by the world's largest media,
outdoor installations (min. cut-outs by outstanding Ukrainian craftsmen),
outdoor theater,
Literary meetings/discussion panels with the participation of leading journalists, scientists and social activists,
Daily physical activities (yoga, mountain hiking) Stands of the Rural Housewives' Circle,
presence of national, regional and trade media Atmosphere that cannot be forgotten.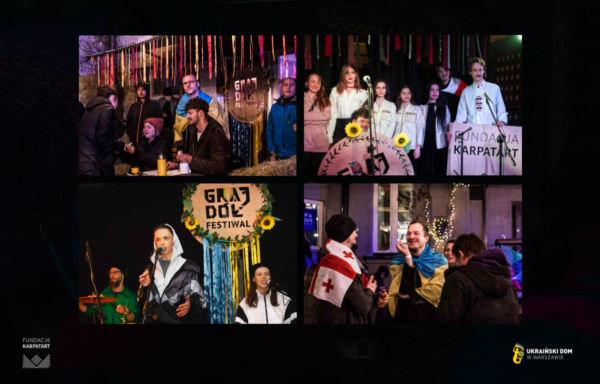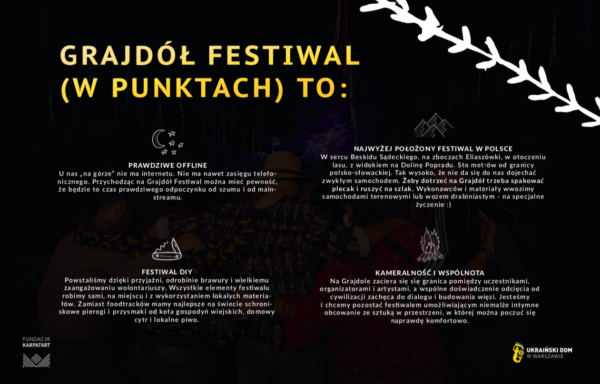 The Grassroots Festival is first and foremost:
SOCIAL INVOLVEMENT, which is expressed at every level. We are not a revenue-oriented event. We carry out the mission and statutory goals of the Karpatart Foundation, and each edition is dedicated to a specific social challenge/problem – we invite activists, journalists and scientists to long discussions around the campfire. During the first edition, we discussed migration on the basis of the situation on the Polish-Belarusian border.
The motto of this year's edition was to be post-pandemic recovery. Everything changed on February 24. Like many others in Poland, we have become involved in the Ukrainian Cause at every level – our homes host Ukrainian families, we hold collections, organize convoys of aid to Ukraine, translate, organize lessons, support other organizations, even full time.We also decided to change the Gradół.
20% of the proceeds from the sale of each ticket (including bric-a-brac) are donated to our partners from the Our Choice Foundation and Ukrainian Home in Warsaw. We have reserved additional space in the program for refugee artists, and we include Ukrainian youth in our activities.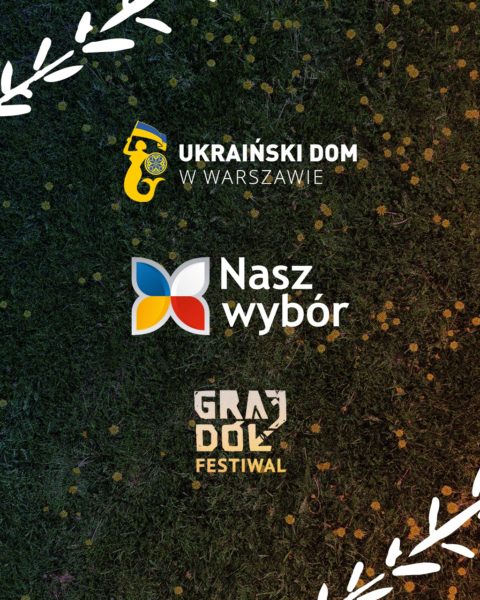 The mission of the festival
We nurture the cultural heritage of the Carpathian Mountains and use its potential to promote hospitality, openness and democratic togetherness. We support the development of independent culture, sustainable and responsible tourism and local civic initiatives. This is our mission. And here's how we implement it: