J. Fritz Rumpf: emotions in nature photography
W 18. issue of Outdoor Magazine hosts another interesting character, a photographer who lives and works mainly in the United States. In "Postcard…" we present a meticulously compiled selection of exceptional slices of the natural world that take us to deserts, dunes and other desolate spaces described by Americans as great outdoors. Photos J. Fritz Rumpf best viewed in print. W Postcard… you will find some reflections and thoughts of their author. Meanwhile, below is the full version of the conversation we had with Fritz.
Michal Gurgul: Please tell us about your beginnings.
J. Fritz Rumpf: I was born and raised in Venezuela, but my parents are of German descent. The camera has accompanied me since I can remember. As a child I loved to photograph my pets, I also took my camera on family trips and took pictures of landscapes. When I moved to the US at the age of 18, passion overshadowed daily life. I returned to photography late, as I didn't return until I was in my 40s
Often this kind of sensitivity is instilled in us by our parents. Was this the case for you?
Yes, my parents instilled in me a love and respect for nature. My father, who was an avid hiker, encouraged me to see not only broad landscapes, but also the colors, shapes and small details within them. My mother, on the other hand, loved to cultivate a garden and showed me all sorts of plants and flowers, so I had a better understanding of the natural world.
You mentioned earlier your Polish roots. Have you ever been to Poland?
My grandfather on my mother's side was Polish. Unfortunately, he and four of my mother's siblings were killed in a bombing during World War II. Like millions of people, my mother had terrible war experiences that she preferred not to talk about. As a result, I don't know much about her father. Poland is on my list, but I haven't had a chance to visit it yet. I would certainly like to see Krakow and Warsaw, because of the historical significance of these cities, but also some places of exceptional natural interest to me, such as the waterfall "At the mill" on the Iwielka stream in Iwla in the Low Beskid or the Crooked Forest near the village of Nowe Czarnowo. Before visiting, I'll be sure to ask you where to go.
Sure, and back to photography: how did it happen that photography reappeared in your life?
The passion for photography returned with travel some 20 years ago. Another important moment, maybe even a turning point, was the expedition to Antarctica in 2014. The landscapes there are truly breathtaking, it's hard to describe in words. I took some decent photos then, but I also realized how much I still have to learn. During subsequent trips I honed my skills, discovered new places and directions.
Everything came together in 2019, when I went to Death Valley for the first time. There I discovered my true photographic love – sand dunes. I haven't looked at anything like this before. A bond was born that grew stronger with each subsequent visit.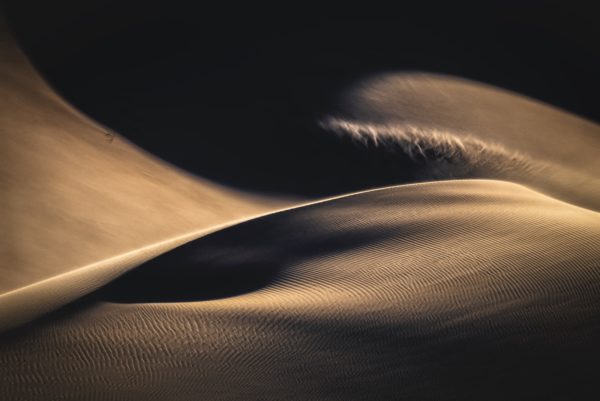 fot. J. Fritz Rumpf
In August 2019, on the other hand, I was able to visit Uganda and Rwanda, where I photographed mountain gorillas. It's amazing animals and a fantastic experience – to be so close, to observe them in their natural habitat. One of the gorillas even tripped me, running right past me. It's not easy to explain, but even this time I felt a thread of understanding with these gentle giants. Different from the dunes, but still. Both of these experiences strongly influenced the way I see the world, the way I try to capture that world.
What is the difference between landscape and nature?
Landscape photography involves open spaces. I am more attracted to closer, tighter frames. Wide shots are sometimes stunning, no doubt, but looking only at the big picture, we miss a lot of details that make up the whole, create the atmosphere of the place. It's the textures, shapes, patterns on the rock, in the sand, on the surface of the water and on the plants.
While studying these scenes, selected fragments of reality, I cover that often less is more. The more I simplify the composition, the fewer distracting elements there are, the more I focus on the subject of the photo. And the better – I hope – I manage to portray its nature.
With these treatments you get closer to the subject. The person viewing your photo feels the intimate nature of this communion with nature. How do you perceive this relationship?
I am consistently amazed at how much beauty there is in nature. Often when processing photos I focus more not on how a place looks, but how I felt there. I don't make documentation after all. That's why my photos are often a bit abstract and/or surreal. The final image reflects, in a sense, the admiration and awe, the feelings that accompanied me at that moment.
Where do you like to photograph? Which deserts do you return to most often?
I am fortunate that I live in the middle of the desert areas of Arizona, so I can get to many interesting places quite quickly. Among my favorites are: Grand Canyon, Sonoran Desert, Vermilion Cliffs, Lake Powell, Monument Valley and several others.
No wonder you went in such a direction, having such a neighborhood.
True, but I have a seven-hour drive to Death Valley, and that's the place that attracts me the most. I like the sand dunes there and the cracks and "tiles" in the dried mud. The possibilities for hiking and photography in Death Valley seem endless. It's a magical place. I also enjoy traveling to our northern neighbor – Utah.
And further?
Before the pandemic, we tried to go on a longer trip abroad at least once a year. I was lucky enough to visit and photograph beautiful places on all continents. The trips that are most memorable for me are those to Africa, Japan, Cuba, the Galapagos and, of course, – Antarctica. I would love to return there.
During my travels I also photograph people very often, probably more often than places. It seems to me that such photos sometimes better convey the atmosphere and impressions of the trip. I also really enjoy taking pictures in our garden. Regardless of the season, nature gives us amazing subjects.
Photography requires dedication, energy, thought, but also time. Is it difficult to take pictures when traveling with someone?
It depends. We always go on foreign vacations together with my husband, who is very patient and supports me in my passion. We also go on many shorter trips with a group of friends who don't mind that we don't do all the things together. Nevertheless, I have noticed that I take my best photos when I am alone, when nothing distracts me. Then I am able to fully immerse myself in the environment, to establish a strong relationship with it. I also feel more freedom – if I like a place, I can stay there as long as I want.
For example, how long?
Sometimes it happens that I shoot around one area for 14 hours. I take pictures, soaking up the atmosphere of the place. I love being in nature, bonding with it as a whole. At this scale, it's probably something that might not appeal to everyone.
Take me through your creative process?
I make contact first. I don't focus on technical aspects, because I don't care about perfect photos. What's important to me are the feelings that awaken in me when I interact with a subject, mountain or leaf, whatever. I try to capture the moment so that the person looking at the photo later will be able to extract those emotions from the image. I look for a frame that best captures them, I clean it of unnecessary elements, I use lines – I like them a lot, I try to compose in such a way that they smoothly lead the eye into the composition, often from the corners and edges of the frame. Finally: be careful about exposure. I've lost a lot of photos due to my careless approach to the histogram.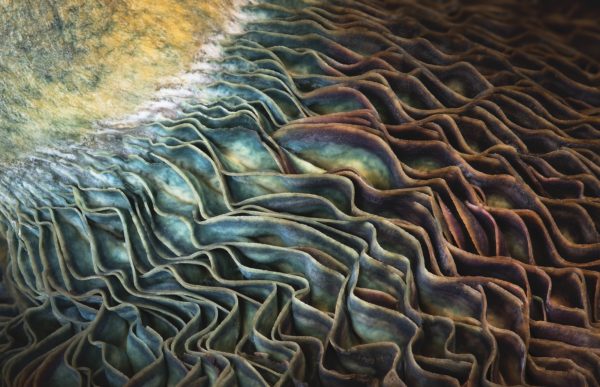 fot. J. Fritz Rumpf
Is it impossible to take a good photo without emotions?
If you don't feel anything while photographing, if it doesn't have a deeper meaning for you, how can you expect such a photo to engage the viewer? We live in a world dominated by social media, people scroll through hundreds of photos every day. What's the point? So I try to capture something more, something that will make someone pause for a moment, and hopefully feel at least a fraction of what I felt while shooting.
And this is where the satisfaction probably comes in. And what else does photography give you?
Above all, it's an excuse to commune with nature, away from the daily craziness, civilization and the reach of the telephone network.
And its function for the world?
In my opinion, it's a form of expression, like any art, whose task can be to immortalize and share our beautiful planet. Not always literally, but often in a way that moves something in people. It's something that depends on the subject of the photo.
An abstract image, for example, can engage the viewer on a different level than an "ordinary" landscape. The viewer tries to figure out what larger whole it is a piece of, a bond is formed with the subject and therefore with nature. I hope some of my photos work this way. How would we care about nature without being aware of how much it offers?
How much we have to lose…
Today more than ever! Many people live in complete disconnection from the environment. If photography has a chance to influence them even in the smallest way to make them feel that bond again, I think it's worth trying.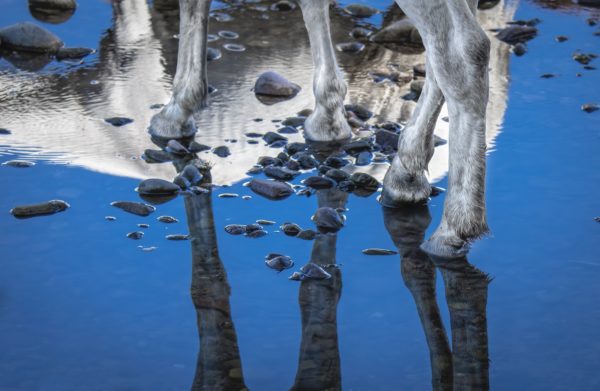 pic. J. Fritz Rumpf
More of Fritz's photos can be found in the printed OM. Please visit!
OM #18: A postcard from a photographer