Lesovik, that is, sleeping under the eye of a forest spirit
Lighter and more comfortable – this is how to spend the night in the field in a hammock. It is not only a minimalist solution that can completely replace the traditional tent, but also a new experience and a growing trend in the market. To meet the needs of ultralighters and lovers of blissful rocking in the field, the Polish company LESOVIK responds.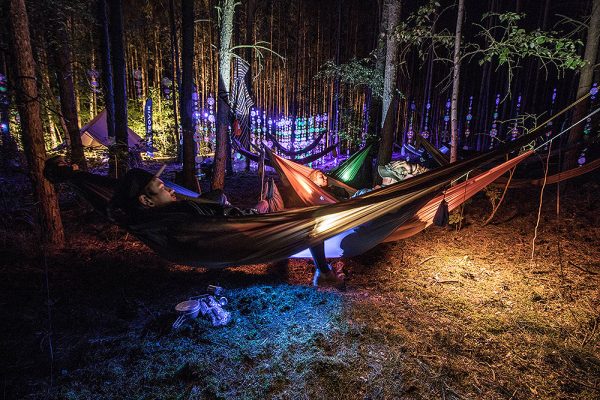 The social and entertainment aspect of hammocking, or a chill-out zone at an intimate festival (photo. Konrad Busza)
Hammocking – what it's all about?
Hammocks have been known to man since the dawn of time, but their typical outdoor history is relatively short. It is only in the last dozen years or so that the market has developed so well that "hanging beds" have gained a strong group of supporters and have begun to fight for their place in the popular consciousness of potential users. There's no denying their advantages: they're lightweight, small when packed, easy and quick to use, and overnight stays can be arranged regardless of uneven ground or sloping terrain.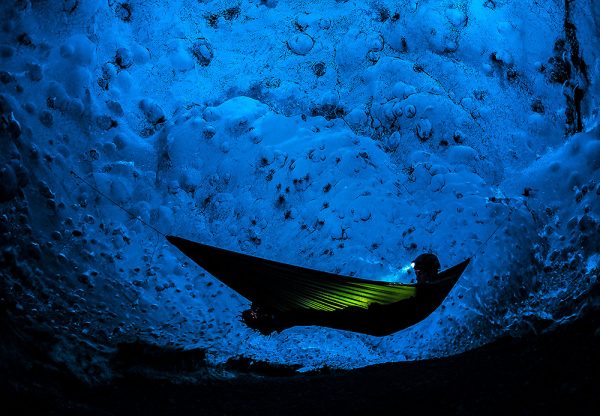 One can hammock unusually – for example, inside the Vatnajökull glacier (photo. Marcin Dobas)
The basic hammock kit, with which you can set off on any trail, includes:
Hammock – the heart of the system. Unlike garden models, it has no struts, is longer, in action it more resembles a leaf wrapping around the user. Made of super-lightweight polyester or polyamide fabrics, making it weigh around 200-400 g.
Hammock suspension system – from the simplest ropes, through webbing
With buckles for adjustable lashings made of Dyneema. All this to facilitate the organization of accommodation.
Protection from wind, rain, snow – in this role tarp, which is a bivouac tarp hung over the hammock, slightly longer than those designed for sleeping on the ground.
The great advantage of the hammock system is its modularity – retrofitting yourself with individual elements can be staggered over time, gradually building your individually tailored kit.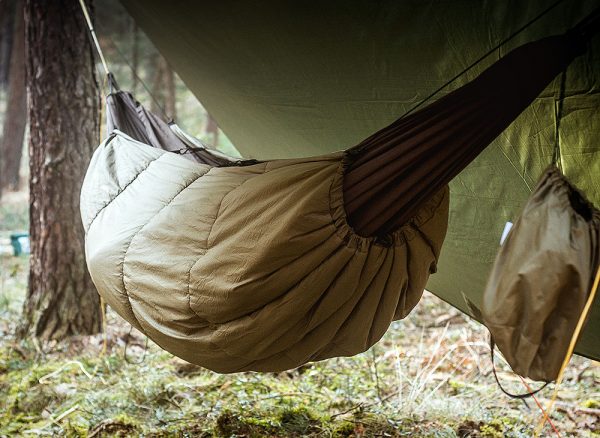 Hammock warmer, so called. underquilt, allows you to stay overnight even in minus temperatures (fot. Adam Frątczak)
Once in a hammock – forever in a hammock
Hammocking is more than pure utilitarianism. It's a unique style whose charm can be felt from the first contact. In typical hiking, the most important thing about hammocks is the extraordinary experience of above-average comfort that even the best mat won't offer when sleeping on the ground. In a hammock one falls asleep faster and sleeps more soundly. When properly positioned, the body lies practically flat. Man's relationship with the environment is also changing – we rest and sleep in a rhythm closer to nature than happens when we are separated from it by the locks of a tent. This is a solution for both soloists and those setting out on the trail in small groups. Looking at the hammock through the prism of lifestyle recreation, it is an excellent accessory with a social character. It is a relatively cheap, attractive product with versatile applications. It lowers the so-called. The threshold of entry for those beginning their adventure in the outdoors, while giving indescribable satisfaction and pleasure from the simplest rocking.
Made in Poland
When we started our sewing adventure, the hammock market in Poland was practically non-existent. To our surprise, there was no one who dealt with the subject seriously. The first LESOVIK hammocks were sewn in a home workshop as an experiment with materials and design, rather for fun and to try out the concept. It quickly turned out that the amateur-created equipment worked well in its role, gave us a sense of lightness, freedom, closer contact with the environment, and "outside" users praised it for its comfort and versatility (this is the advantage of monoconstruction – hammocks are made from a single piece of fabric).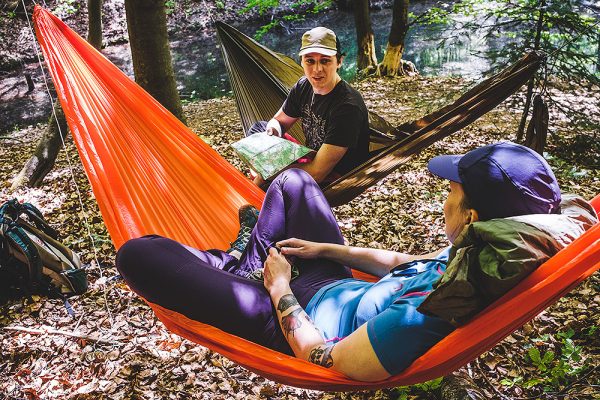 Rest on the trail and instant recovery. In the photo Rafal Palowski – a hammock enthusiast in love with the Scandinavian philosophy of the outdoors, founder and chief designer of LESOVIK (photo. Maciej Walaszczyk)
At the time of our launch in May 2013, we offered one universal hammock in a single color – the Spirit. We have been producing it without major changes until today. As a cult model for many people, it is a symbol of "hammocking in Polish". Simplicity, minimalism, high quality materials (ripstop polyamide, Kevlar ropes), Polish production – these values have been recognized, among others, by the jury of the Lodz Design Festival, which in 2015 gave the Spirit the MustHave award! In the same year we also received an honorable mention in the Silesian Thing competition organized by Cieszyn Castle. The spirit has become the perfect motivation for the journey ahead.
The further into the forest the…lighter!
We realized that if hammocks are to become more than just a backyard curiosity, they have to encourage, be superbly made, look nice and work perfectly. The only way was to create a complete portfolio of professional, trustworthy products. The aforementioned Spirit was quickly joined by the first models of bivouac tarps, easy-to-use suspension systems or hammock warmers from Climashield Apex, enabling comfortable overnight stays even at -15°C.
The biggest breakthrough, however, was to enter the path of ultralight equipment. The facts were obvious: we won't encourage a wider audience to hammock if a complete set for one person weighs 2,000g, no matter how comfortable and modular it is. We had to slim down, and significantly, and the recipe was technology and minimalism. Silnylon, Dyneema, down, lightweight aluminum alloys, laser-cut laminate details and the right amount of time spent on design optimization resulted in the LESOVIK Ultralight series. The weight of such a complete set, which consists of a hammock, its suspension system, tarp with built-in lashing tensioners and down bolster, will close in 1200 g.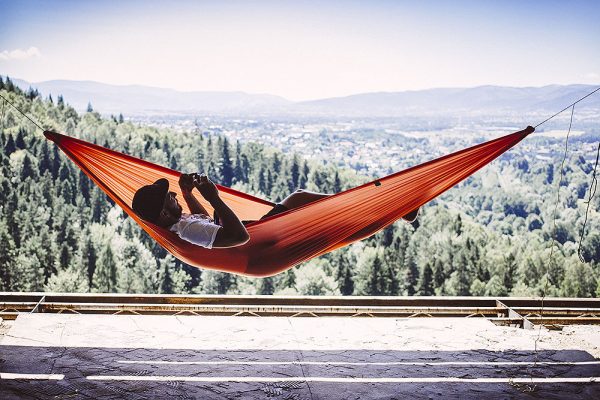 The lightest hiking hammocks weigh less than 200 g (fot. Coffee Tea Trip)
LESOVIK's current portfolio meets the needs of all customer groups we have had the pleasure of working with – "foresters" (survival, scouting, military and related), bikepackers, long-distance travelers, ultralighters. At this year's ISPO trade show in Munich, we unveiled our first tarptent, a tarp typically tailored for minimalist sleeping on the ground; products are in development for equatorial conditions.
And beyond the forest?
Hammocking has many facets – recreational, professional, specialized. Each variety has a great future. Research conducted in the US between 2013 and 2017 shows an outstanding growth of this market segment. In 2016 alone, hammock sales increased by 30 percent. relative to 2015, this market is now double what it was in 2013. Forecasts to 2025 predict stable growth of 17%, in Poland interest in hammocking is clearly growing. We see it in LESOVIK, distributors see it, stores see it. Above all, however, the target audience feels it, which is growing year by year, and there are many indications that the boom is yet to come. Combined with a parallel growing consumer awareness of the choice of domestic brands, we are proud to be on the frontline of this change. After all, for many people LESOVIK is not just an answer to the offerings of the "big" brands, but a determinant – and we do not cease in the effort to strengthen this opinion. The long-range goal is to create a brand synonymous with ultralight, ergonomic, fabulously easy-to-use products, because we believe that the last thing a person should pay attention to in the field is the gear they brought with them. We want to become a backdrop for the most important thing – adventure.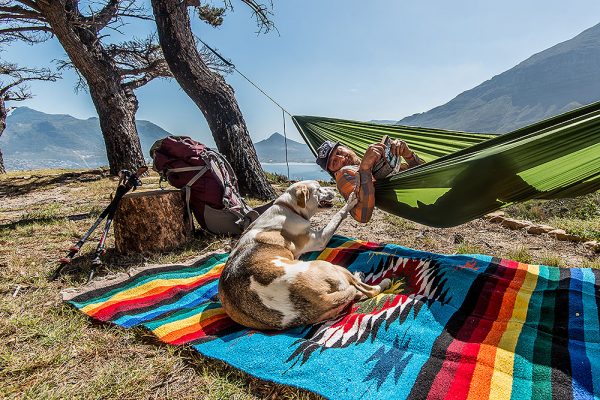 A hammock and a book taken on a trip make a reliable duo (fot. arch. Lesovik)